The Prime Minister of the Uganda Rt Hon Robina Nabanja has been impressed by the efforts implemented by district leadership while rolling out of the parish development model program in the District.
Nabanja was addressing different stakeholders during a sub region training workshop organized by the office of Prime minister on Parish development model program at URDT multi-purpose Hall in Kagadi town council Kagadi District.
Among the activities that have been implemented by the district include recruitment of Parish chiefs in the 151 parishes, Training of stakeholders on PDM, Formation of 151 SACCOS and 1955 group Enterprises.
Nabanja further urged leaders to sensitize communities on the effects of polygamous families since most of family incomes are spent in looking after children rather than investment.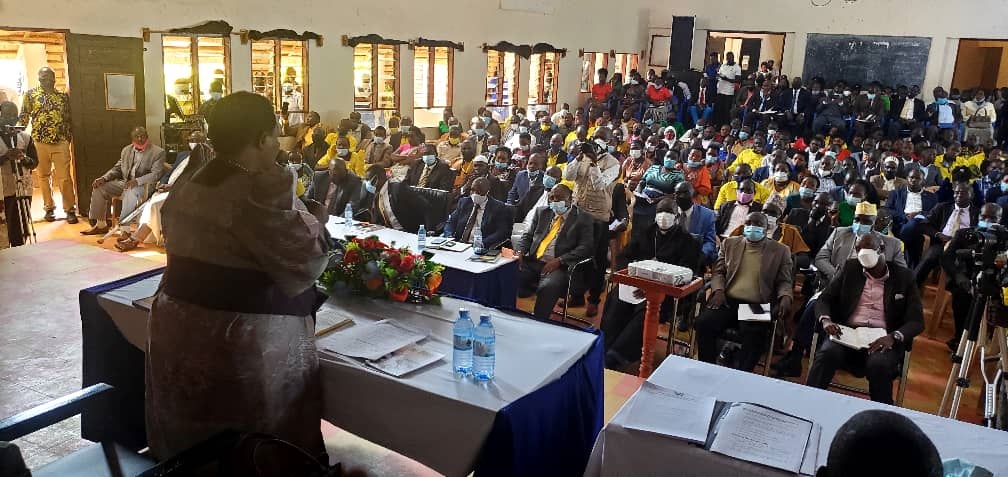 The Prime Minister was accompanied by the Minister of Finance, planning and Economic Development Matia Kasaija who said the government plans to invest more in irrigation as a way of improving agricultural production.
The LCV Chairperson Kagadi Ndibwami B Yosia requested the Prime minister to follow up on the 23 billion Kagadi water piped project that has spent over 5 years under construction contrary to the 1 year project duration and urged government to consider elevating Kagadi General Hospital into a Regional referral Hospital.
The women Member of Parliament Jennipher Kyomuhendo Mbabazi, Buyaga West MP Tinkasimire Barnabus, RDC Kagadi Nicholas Kamukama, Chief Administrative officer Mathias Ndifuna , District Executive committee members among other graced the function.